Skip to Content
Balloon Sinuplasty in Thousand Oaks, CA
We Can Treat Your Sinus Problems Effectively
The ability to breathe easily is a luxury that not everyone enjoys. But there are solutions for individuals with conditions such as chronic sinusitis that inflame the sinus passage and inhibit breathing. Bella Vista ENT specializes in a wide range of treatments, including balloon sinuplasty. We perform this procedure at our state-of-the-art clinic in Thousand Oaks, CA for individuals from throughout the region. Our team is committed to helping improve our patients' quality of life by relieving sinus pressure and facilitating deep, easy breathing. If you suspect you may need such a procedure, call our friendly team today to learn more.
What Is Balloon Sinuplasty?
A balloon sinuplasty is a relatively new surgical procedure designed to clear blocked sinuses. It is also known as balloon catheter dilation surgery and the "smart sinus" procedure. It is most often used to treat patients with chronic sinusitis, a condition that affects more than 31 million people across the country. Your sinuses are located behind your forehead, nose, and cheeks. They produce mucus that protects the body by trapping germs and preventing them from entering your system. However, bacteria and allergens may cause excess mucus production, which blocks nasal passages. If this happens regularly, you may be a candidate for a balloon sinuplasty procedure at Bella Vista ENT in Thousand Oaks, CA.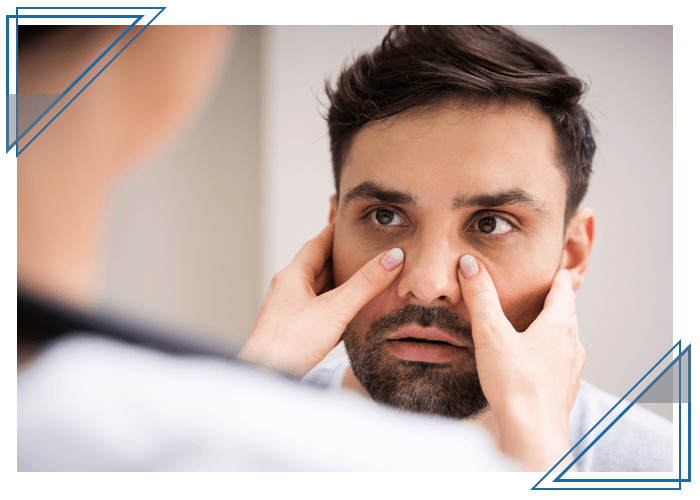 Determining If You Are a Balloon Sinuplasty Candidate
Everyone experiences blocked nasal passages at some point. They are a common immune response for individuals suffering from a cold or flu infection. But if your blocked sinuses last for more than a week or two, or you experience them regularly, you should seek treatment from Bella Vista ENT. During a consultation, we will discuss your symptoms and determine an appropriate treatment plan. Balloon sinuplasty candidates typically exhibit:
Chronic bad breath or foul tastes in their mouths
Chronic nasal problems
Difficulty breathing through their nose
Headaches near their eyes
Lack of contributing structural issues
Recurring sinus infections that do not respond to medication
Understanding the Balloon Sinuplasty Procedure
Our ear, nose, and throat specialists will perform your balloon sinuplasty procedure in the comfort of our state-of-the-art clinic. We use the latest equipment and remain up to date with all the best surgical practices. The procedure does not involve cutting or removing any nasal tissues or bone, which is among the reasons it is increasingly recommended for individuals with chronic or acute sinusitis. Many of our patients choose to utilize local or general anesthesia to ensure there is no pain.
To begin this minimally-invasive procedure, our doctors insert an endoscope into the nasal passage. This thin, flexible tube features a camera and a light, which allow us to see what we are doing throughout the operation. Next, we insert a small balloon catheter into the space. When in place, we will slowly inflate the balloon to expand the sinus opening. Once inflated, we will flush out built-up mucus and pus in the sinus cavity using a saline solution to relieve pressure, which most patients notice immediately. Meanwhile, the inflated balloon softly restructures the nearby bones to ensure the sinuses remain wide and free of pressure even after the balloon is removed.
What You Should Expect During Recovery
Because the balloon sinuplasty procedure is minimally-invasive, most patients can return to their regular routine within a day. However, they may notice unusual drainage or nasal discharge in the first week following the operation. Additionally, some patients experience swelling, fatigue, and minor congestion, but these symptoms tend to dissipate within five to seven days. Our doctors will provide detailed instructions regarding what you should expect while recovering from a balloon sinuplasty. In addition to discouraging blowing your nose for at least 24 hours, we recommend avoiding strenuous activity for up to a week. We may also prescribe antibiotics to prevent potential infections.
Benefits of Balloon Sinuplasty
Balloon sinuplasty procedures are safe and effective. The doctors at Bella Vista ENT promise high success rates with limited risks of complications for each patient who undergoes a balloon sinuplasty at our clinic. Among the benefits our patients experience are:
Clearer sinuses
Easier breathing
Little to no pain or bleeding
Minimal post-operative appointments
No tissue or bone removal
Reduced risk of infection
Short recovery times
Why You Should Choose Bella Vista ENT
Bella Vista ENT has earned an unrivaled reputation for performing balloon sinuplasty procedures for patients in Thousand Oaks, CA. Our team of physicians has extensive experience and undergoes continuous training to remain abreast of all the latest developments. We take pride in delivering a high level of specialty care to ensure our patients are safe and healthy. To meet these commitments, we take a personalized approach to every procedure we offer. We will get to know you and your circumstances so that our entire team can provide the treatment you need.
Contact Bella Vista ENT Today
If chronic sinus issues are affecting your quality of life, seek treatment from the experts at Bella Vista ENT. We perform balloon sinuplasty procedures for patients in Thousand Oaks, CA to enlarge their nasal passages and enhance their breathing ability. Contact us today to schedule an appointment.